Facial Rejuvenation
With facial rejuvenation, patients not only get good results, they also get good health results.
Facial rejuvenation is a non-invasive way to look younger.
What cosmetic results would you expect :
A reduction in fine lines
A "leveling" of deeper lines. Deeper lines may never go completely away but they can "fill up" and look much softer, less harsh
The beginnings of jowls can be minimized
Improvement in acne and rosacea
Skin gets softer, more vibrant
Cheeks get smoother
Overall skin tone becomes more consistent
Age spots fade
Wrinkles on the décolletage

can fade
Some general good health results have been reported:
Hot flashes and/or night sweats went away

Eyes looked bright

Mild depression has been reversed

Mild anxiety is resolved

Many cosmetic acupuncture patients report that their digestion is improved and this will definitely affect what is going on in the skin and face

Patients report having more energy

Headache disappeared
Are you a good candidate for Facial Rejuvenation?
If any of the following does not apply to you, then you are a good candidate:
Migraine headaches

Any Seizure disorders

Uncontrolled hypertension

If taking blood thinning drugs

Pregnant

Smokers

Extreme sun damage
A free consultation is also offered to decide whether you are a candidate for Facial Rejuvenation. Please call 415.695.4835 to set up an appointment.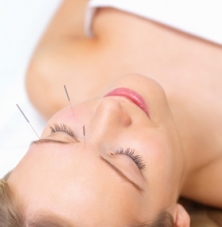 Treatment Plan
To obtain optimal results, a total of 10 treatments is recommended. Depending on age and condition of the skin, lifestyle and diet, a patient may come in once per week for 10 weeks or twice per week for 5 weeks.
Thereafter, patients can come in every two weeks or once per month for maintenance, depending on individual results.

Copyright © 2021 Blossoming Lotus Acupuncture & Renee Chan